About Scott's Sports Cards, Coins & Jewelry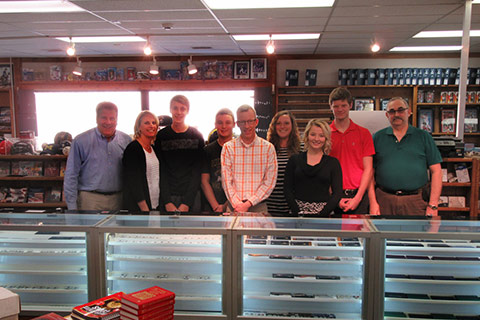 Welcome to Scott's Sports Cards, Coins & Jewelry – Southwest Michigan's leading buyer of gold, silver, and platinum jewelry as well as a wide variety of U.S. coins & bullion silver and gold located in Portage, Michigan.
Scott Hocevar started buying and selling coins beginning in 1972.  Scott & his wife Amy Hocevar began working full time together growing their business since 1992 in their current location.
Scott went into business on his own in 1986, and became very active in the rare coin market. Scott and his wife, Amy Hocevar have been at their current location together since 1992, they have grown their business into the leading buyer of gold, silver, and platinum jewelry in Southwest Michigan located in Portage, Michigan. The family-owned business has experienced excellent growth – especially in the coin and jewelry markets – and now employs nearly 20 people, most with backgrounds in US & Foreign coin knowledge also in jewelry sales & sports cards and memorabilia.
We have unbeatable prices on diamonds and gold jewelry. We sell both new and pre-owned gold, silver and platinum jewlery. Scott & Amy have expanded their selection of pre-owned silver jewelry recently to go along with the already large selection of yellow, white gold & platinum diamond & gemstone jewelry.  We also carry a full line of sports cards, memorabilia, and authentic autographed items, as well as collecting supplies for both sports cards & coins. We also have a limited supply of stamp collecting supplies. So, if you're looking for something special for a collector close to you, rest assured that we can help.
Our emphasis on buying allows you to bring in those coins and cards for appraisal. You can bring your silver, gold, and platinum valuables for repair or sale. Our knowledgeable and enthusiastic team can assist you in finding that elusive collectible or in offering you a competitive price for the items you no longer need.